GULF STATES – ECONOMICS & FINANCE
75PC of UAE companies don't set aside assets for end-of-service gratuities
Three quarters of companies in the UAE do not set aside specific assets for end-of-service benefits, according to a new survey from Swiss insurer Zurich.
The study follows up on a similar report in 2016, which found 83 percent cover their end-of-service liabilities from their operating cash flow.
"It still indicates that there is a dearth of setting funding aside for end-of-service benefits," says Reena Vivek, senior executive officer at Zurich Workplace Solutions, a new entity in the process of being incorporated in the Dubai International Financial Centre.
"There is still a gap in the market from companies to make sure they are taking care of these liabilities in a robust manner. There is a gap in transparency to employees as to how these funds are provisioned for, if they are at all," she adds.
Zurich supplies employer-sponsored workplace savings schemes to about 70 companies across the GCC, with $1 billion (Dh3.67bn) in assets under management. It will also be the administrator for the DIFC's Employee Savings plan (Dews) to replace the gratuity, scheduled to start on January 1.
Jobs: how much can you earn in UAE in 2020?
2020 is looming up as a milestone year for the country and looks like it also marks a upward trend for salaries and job prospects in the UAE – based on a report by Robert Half, a recruitment and consultant agency.
The report states, "The majority of chief executive officers (CEOs) in the Middle East are struggling to find qualified talent to fill open roles." The trends of hiring and paying have changed drastically in the region and around the world. Digitisation, political and economic factors, innovation goals etc. affect what companies look for and are ready to pay for.
In the new digital-first hiring scenario, according to the report, three key-skills are in high-demand.
In addition to this, the boost to entrepreneurship in UAE has in turn made qualified accounting and finance talent scarce. " 32percent of small businesses in the UAE are struggling to hire the accounting talent they need," the report adds.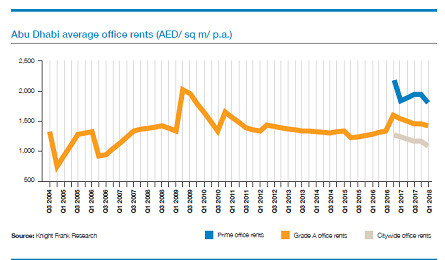 Travel from Dubai to Abu Dhabi in 12 minutes using hyperloop
Make the Dubai-Abu Dhabi trip in 12 minutes? Or travel to Riyadh from here in 48 minutes?
For the people at Virgin Hyperloop One, it is a message that needs repeating as cities and countries search for the next-generation mass transport solutions. It seems to be working. These days, the jaw drops and raised eyebrows that accompanied any mention of hyperloop-enabled travel is being replaced – gradually – by a willingness to listen and get a better understanding.
"It's true, from being dismissed as sci-fi, hyperloop has graduated to something transport authorities consider as a future model for mass transport," said Harj Dhaliwal, Managing Director for the Middle East and India at VHO. "They see it as something real and that it's gonna happen."
The US company – in which Dubai's DP World is a major investor – was something of a surprise presence at the ongoing Dubai International Motor Show. There, it showed off the "passenger pods" that will, if all goes according to plan, take people through vast distances in minutes rather than hours. (Though still a prototype, the pods do look the part of a future transportation model. And much better fitted out than anything in the Tardis, the Dr. Who time machine.)
"The full-scale pods have passed through 400-500 tests at our Las Vegas base – now, we are ready to move that tech design onto a live commercial project," said Dhaliwal.
The pods would speed – speed is the essence in making hyperloop viable – through extended tubes connected between cities. Think of it as super-speed bullet trains moving through a tunnel and not offering much by way of scenery.
The pods could reach speeds of up to 1,000 km/hr, while the company claims that these are 5-10 times "more energy efficient than a commercial airliner".
The hyperloop concept and its commercial possibilities had an early backer in Elon Musk. And with such an ardent and persuasive backer on board, the technology and its many parts have been making progress. There are other players trying to come up with their versons of the hyperloop, notably HTT.
Showing off the pods is one thing… getting active on the ground is another. This is where VHO says it has been making significant progress in recent months. In India, late next year, it will start work on a 12-kilometre stretch between Mumbai and Pune as part of the Phase 1 rollout.
"It will be the first time we are bringing the technology outside of the US; the intention is to set it up, certify it and get it approved by the regulators in that jurisdiction," the official added. "We have not signed anything officially as yet – but the Mumbai project will be a marker.
Apple's biggest macbook pro in years now available in UAE; price, specs here
Apple has kept walking the 'Pro' talk as of late. This time, it's the company's top laptop that gets a big refresh.
The iPhone maker on Wednesday announced its newest MacBook, aimed at professionals who "rely on a Mac to create their life's best work".
Apple says the all-new 16-inch MacBook Pro is the "world's best pro notebook", promising up to 80 percent faster performance, powered by the latest six- and eight-core 9th-generation Intel i9 chips.
It features a Retina Display, the latest 8-core processors, up to 64GB of memory, next-generation graphics with up to 8GB of VRAM and a new advanced thermal design.
The biggest MacBook in the market today is 15 inches. The new device is the largest since Apple released 17-inch MacBooks about eight years ago.
It also has what Apple calls a Magic Keyboard, which has a redesigned scissor mechanism that will resolve typing issues. Other features includes a six-speaker sound system, longer battery life, Touch Bar, Touch ID, the Force Touch trackpad and the Apple T2 security chip.
And in another first, the new MacBook Pro can be configured to have up to 8TB of internal storage, making it the largest solid-state drive in a notebook.
The revamped notebook would be a boon for professionals dealing with strenuous computing tasks such as compiling code, editing multi-camera video or processing 3D animation.
NPCC accelerates five-year digital transformation plan
National Petroleum Construction Company (NPCC), a part of Senaat Abu Dhabi, on Wednesday announced an ambitious five-year plan, backed by multimillion dirham investments, to transform its digital capabilities and meet the evolving needs of its clientele, employees and the region's oil and gas industry.
This follows a two-year assessment conducted by NPCC with the support of Deloitte to assess its future technology needs and prepare it for the smart world envisaged by Abu Dhabi Economic Vision 2030.
The digital transformation plan of NPCC was announced at the Abu Dhabi International Petroleum Exhibition and Conference (Adipec) held at the Abu Dhabi Exhibition Centre, where NPCC had a dedicated pavilion. NPCC also showcased its digital transformation roadmap and enhanced tech competencies at the event. NPCC has activated two streams of digitisation: The first focuses on corporate affairs, with a focus on system and procedure enhancements, and the second aims at strengthening manufacturing capability through advanced automation.
As part of the digital transformation, NPCC has marked a strategic Dh40 million investment partnership with Microsoft and Aveva to enhance the company's internal and customer-facing systems while a dedicated in-house innovation team has been established that will work across the board to implement increased manufacturing automation that will enhance operational efficiency and add value for the company's customers.
The impact of the digital transformation at NPCC will be higher efficiency levels across all aspects of its operations that will position it as the most competitive, effective and productive EPC partner for customers. It also reflects on NPCC's commitment to be at the forefront in leveraging next-generation technology, establishing it as the most agile, lean and flexible entity that embraces changes in the technology landscape to lead the market.
NPCC's partnership with Microsoft and Aveva aims to transform its internal enterprise resource planning (ERP) software. This will enhance the operational systems resulting in a greater flow of information across departments and greater convenience for employees and customers alike.
Eng Ahmed Al Dhaheri, CEO of NPCC, said: "With technology redefining the energy landscape, it is a strategic imperative to invest in next-generation digital tools to add value to our customers by enhancing the efficiency of our operations across every touch-point. Our digital transformation marks a substantial investment that will position us as the most flexible and agile EPC major for the energy sector, meeting the need of our customers, and adding more value to our operations. This reflects our commitment to meeting the goals of Abu Dhabi Vision 2030 to build a vibrant domestic manufacturing ecosystem that is highly efficient and productive."
He added: "The close links between digital and technology revolution have brought a new era of innovation to the energy sector, which has typically been static to changes. We are seizing the opportunity to be a digital-first entity through the digital transformation plan, which will enable us to offer cutting edge solutions to meet the diverse needs of our customers, which too are moving ahead in the digital curve. Since 1973, our industry leadership has been underpinned by a forward-looking mindset that proactively identifies the needs of our clients, employees and the sectors we operate in. Our new digitisation strategy will ensure that we will have access to the most innovative solutions – both developed in-house and through our partnership with majors such as Microsoft and Aveva."
The digital transformation by NPCC is supported by a close evaluation and adaptation of the latest technological manufacturing solutions as well as factory management systems that will lead to the upgrade of NPCC's manufacturing facility both in Abu Dhabi and its new yard in Saudi Arabia.
Dubai's tourism growth boosting holiday homes
The continued growth of Dubai's tourism industry has encouraged investors and homeowners to capitalise on the abundance of opportunities in the holiday homes market, leading to an exponential growth in short-term rental units in the emirate and adding to the broad range of accommodation options that are available for tourists.
Dubai's Department of Tourism and Commerce Marketing (Dubai Tourism) has established clear legislations and regulations to ensure a comprehensive classification and verification process when issuing permits for holiday homes.
Dubai Tourism also continues to conduct regular inspections of units to ensure they meet the approved quality standards. Furthermore, an updated executive resolution and holiday homes guide featuring the various processes, requirements and classification criteria will be unveiled shortly.
Recognising the growing demand for the short-term rental concept, the holiday homes sector has seen a massive 40 percent year-on-year increase since 2015, the year when the issuing of permits to operate holiday homes commenced and the number of rented housing units increased from 1,531 units hosting 11,783 guests in 2015 to 6,049 units hosting a staggering 168,502 guests in 2019.
The visitor segment that benefits most from holiday homes are families, as they are able to create a holiday that is tailored to their individual needs. As of August 2019, there were 712 hotel properties in the city, consisting of 119 five-star hotels, 149 four-star hotels, 252 hotels with 1 to 3 star ratings, 68 luxury hotel apartments and 124 mid-level hotel apartments; making a total 119,035 hotel rooms in Dubai alone. Additionally, the 6,049 holiday home units have widened the accommodation options for tourists.
The success of the holiday homes concept is a further boost to tourism growth in Dubai and is line with concerted efforts that are underway to make Dubai the world's most visited city in line with Dubai's Tourism Vision 2022-25. The tourism strategy has yielded rich dividends with Dubai being recently ranked as the fourth most visited city in the world for the fifth year in a row, according to the annual MasterCard Index of Global Destinations 2019.
As part of the strategy to boost visitor numbers, and with Expo 2020 Dubai expected to attract 25 million visitors, Dubai Tourism anticipates an increase in the number of property owners moving into the holiday homes business over the next two years.
Acer sets sights on UAE and GCC region
Acer has set its sights on developing its operations in the UAE and GCC region, with a strong focus on the gaming and thin and light notebooks segments, Emmanuel Fromont, Acer president for the EMEA region, told to source.
According to the statistics reported by GFK, the company currently enjoys a market share of 21.5 percent in the gaming segment in the UAE. However, Fromont revealed that the company is also looking to expand and strengthen its presence in other segments.
"We are also invested in the growth in the education sector and currently offer solutions with Microsoft OS products or with Chrome OS products. We have already delivered more than 50,000 Chromebooks to schools in the UAE in the past nine months," he said.
Speaking on the latest trends in the market right now, Fromont revealed that, globally, the PC market has fared well. "The latest trends indicate that the commercial segment is on the rise, while the consumer market is a bit more challenging. The commercial sector is driven by Windows 7 EOL, and a move from desktops to notebooks. For the consumer sector, there has been an uptake in the gaming, ultra-thin and Chromebook segments, which Acer has a strong presence in. Regarding innovation, we continue to see a push towards thinner, lighter PCs, longer battery life, and faster WiFi."
Despite the fact that the PC market is slightly decelerating, he stressed that PCs still serve their purpose in regards to content creation and data management.
"One thing to take into account is the lifecycle of the products and their buying rates," Formont pointed out. "PCs still have a lifecycle of 5-6 years, while mobile devices are replaced more frequently. It is safe to say that the two will definitely co-exist for many years to come. You need both a mobile and a PC, as they each serve a separate purpose. Data creation and manipulation are still carried out on notebooks or desktops, while your day-to-day activities can be carried out on the go with a mobile device."