Published in Geo, on Mar 21st, 2019,
Netflix dropped the first official trailer for Stranger Things season three with the gang back in action.
Released with the tagline, "One summer can change everything", the three-minute long trailer kicks off with a homecoming party for Dustin with Motley Crue's power ballad Home Sweet Home playing in the background.
The trailer then swings into action with The Who's Baba O'Riley playing and Eleven and Max reading magazines and going to the mall.
"We're not kids anymore," says Mike. "I mean what did you think, we're just gonna sit in my basement all day and play games for the rest of our lives?"
There is also a quick flash of Billy, Max's brother in the showers and what seems to be something from the Upside Down growing inside of him.
Jim Hopper is back and looks like he doesn't go out much as he sits alone and dines while trying to have a good time. In contrast to Hopper, Joyce is seen chilling by herself at home.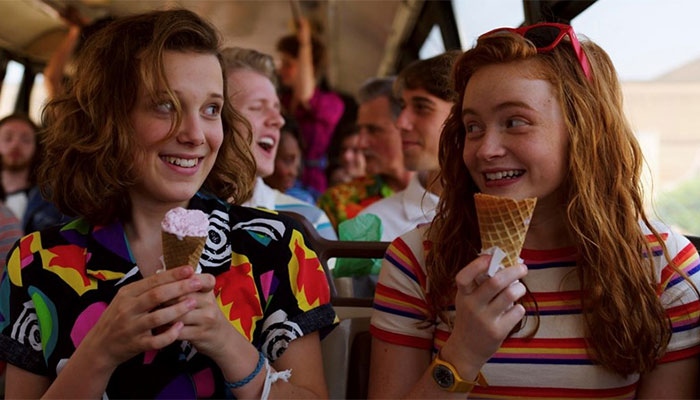 There are also plenty of other things happening in the action-packed trailer with Steve, Dustin, Erica, and newcomer Robin venturing off together into what looks like a facility. Rats running away from something, a crazed man, a beam of light being shot into something, Hopper holding a gun, and Eleven sitting in a darkened grocery store can also be seen in flashes.
Jonathan, Nancy and other cast members also make an appearance in the trailer along with the other kids.
Stranger Things stars Winona Ryder, Finn Wolfhard, Millie Bobby Brown, Gaten Matarazzo, Caleb McLaughlin, Noah Schnapp, Natalia Dyer, Charlie Heaton and Joe Keery.
New cast members for the season include Maya Hawke as a mysterious "alternative girl"; Francesca Reale as Heather, a pool lifeguard; Jake Busey as Bruce, a journalist with questionable morals and Cary Elwes as Hawkins' Mayor Kline.
Stranger Things season three premieres July 4.