Researchers analyzed that India's cement industry is a vital part of its economy, offering employment to greater than a million people, directly or indirectly. They have also mentioned in a statement that India is the second largest producer of cement globally. Ever since it was deregulated during 1982, the Indian cement industry has attracted large investments, both from Indian and international financiers. Different sources also urged that India has a lot of potential for development in the infrastructure and construction sector and the cement sector is predicted to mainly advantage from it. It is noted that some of the present main steps like development of 98 smart cities are predicted to offer a main boost to the sector. An important factor which aids the growth of this sector is the ready obtainability of the raw materials for making cement, like limestone and coal.
Market size
Researcher mentioned in their studies that the housing and real estate sector is the biggest demand driver of cement, accounting for about 65 percent of the total consumption in India. The other major consumers of cement include public infrastructure at 20 percent and industrial development at 15 percent. The studies also analyzed that India's total cement production capacity is almost 455 million tons, as of 2017-18. Cement consumption is predicted to increase by 4.5 percent in FY2019 supported by pick-up in the housing segment and higher infrastructure spending. The cement industry is presently producing 280 MT for meetings its local demand and 5 MT for exports requirement.
The Indian cement industry is dominated by a few firms. The top 20 cement firms account for nearly 70 percent of the total cement production of India. It is also calculated that a total of 210 large cement plants account for a cumulative installed capacity of over 350 million tons, with 350 small plants accounting for the rest. Of these 210 large cement plants, 77 are placed in the states of Andhra Pradesh, Rajasthan and Tamil Nadu.
Investments
According to statistics showed through the Department of Industrial Policy and Promotion (DIPP), cement and gypsum products attracted Foreign Direct Investment (FDI) value US$ 5.25 billion between April 2000 and December 2017.
In May 2018, Ultratech Cement planned to acquire the 13.4 MTPA capacity cement business of Century Textiles and Industries.JK Cement is planning to spend Rs 1,500 crore (US$ 231.7 million) over the next 3 to 4 years to rise its production capacity at its Mangrol plant from 10.5 MTPA to 14 MTPA.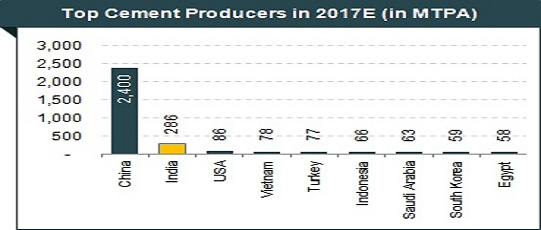 Government initiatives
In order to assist the private sector firms thrive in the industry, the government of India has been approving their investment schemes. Some such measures by the government in the recent past such as in Budget 2018-19, the government of India proclaimed setting up of an Affordable Housing Fund of Rs 25,000 crore (US$ 3.86 billion) under the National Housing Bank (NHB) which will be used for easing credit to homebuyers. The move is predicted to rise the demand of cement from the housing segment.
Road ahead
Cement experts urged that in the next 10 years, India could become the key exporter of clinker and gray cement to the Middle East, Africa, and other developing nations of globe. Cement plants near the ports, for instance the plants in Gujarat and Visakhapatnam, will have an added benefit for exports and will logistically be well armed to face stiff competition from cement plants in the interior of India.
Because of the growing demand in many sectors like housing, commercial construction and industrial construction, cement industry is predicted to stand 550-600 Million Tonnes Per Annum (MTPA) by the year 2025. A large number of international players are also predicted to enter the cement sector, owing to the profit margins and steady demand. In future, local cement companies could go for worldwide listings either through the FCCB route or the GDR route. With help from the government in terms of friendlier laws, lower taxation, and increased infrastructure spending, the sector will also increase and take India's economy forward along with it.