Making yourself heard by big businesses can be tricky. Even when companies have a presence on social media, you might question whether they are genuinely interested in providing opportunities for meaningful dialogue. Is anyone really listening, or are we just talking to ourselves?
Yet Tesco, Iceland and Co-op have recently shown what happens when supermarkets do absorb consumer feedback through social media channels, and then act on it. There have been refreshing signs in 2018 that supermarkets can be persuaded to listen to the demands of their customers.
Tesco backed down on planned changes to its loyalty card rewards scheme following a consumer backlash. Iceland declared it will be making its own-brand products plastic free. And a whole host of retailers announced a ban on energy drinks to those under 16 years old.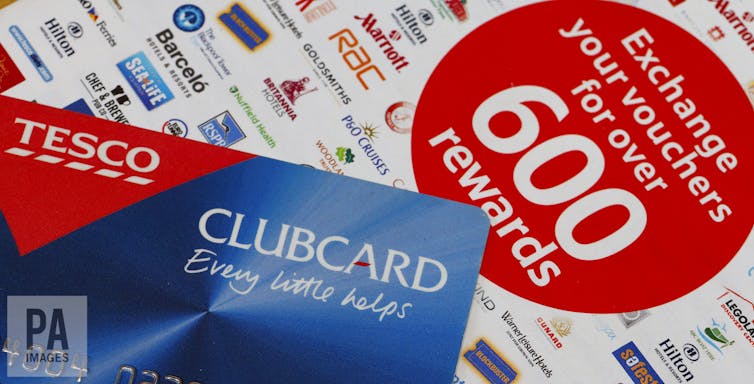 Loyalty counts. PA
So how do you make yourself heard by retailers on social media? After qualitatively examining over 68,000 supermarket social media posts with colleagues at the University of Nottingham, here are my five tips for communicating with corporations – and getting noticed.
1. Introduce yourself
There are countless posts vying for attention in the virtual world of social media, so you need to carve out a unique voice. Why should the retailer listen to you?
Begin by making it clear who you are. Start with: "As a loyal customer…", "As a farmer…", "As a woman…" or "As a dad…" and you give yourself an identity. Do you live near a polluted river that is full of discarded plastic bags? Are you a parent who volunteers in the local community and needs help? Have you been a loyal consumer for years? This is a strategy used particularly well by the #stopfundinghate campaign, which is targeting retailers who advertise in The Sun, Daily Mail and Daily Express:
Building authority is key to establishing a legitimate base upon which to launch your argument. Do not underestimate the voice of experience.
2. Back up your argument
You may well have a valid point to make. But no amount of ANGRY CAPITAL LETTERS, repeated exclamation marks or sad face emojis will communicate a reasoned argument. Instead, a strong case can be built by linking to the content of the organisation's own policy, relevant legislation, a news article, or even a key image or video:
In lobbying supermarkets to stop stocking The Sun newspaper back in 2012, the "No More Page 3" (#NMP3) campaign provided a masterclass in rational argument of an emotive issue. Through a whole host of social media discussions, campaigners skilfully drew on facts, figures and feelings to persuade retailers such as Tesco, Sainbury's and the Co-op to stop selling The Sun newspaper until it removed Page 3.
In a world of fake news, make sure you are armed with facts.
3. Go compare
Competition between UK supermarkets is stiff – so holding retailers to account against their rivals is a great way to galvanise action. Back in 2013, Co-op bowed to social media pressure and announced that it would only sell "lads mags" that were covered by "modesty wraps". Days later, Tesco did the same, saying it had "listened carefully" to consumer suggestions (and perhaps those of its competitors). Today, we have seen a similar approach taken to the under-16 energy drink ban:
You can even compare supermarkets to themselves. Does the talk match the walk? Are there inconsistencies between what the supermarket said it would do, and what it actually did?
4. Tell a story
On social media, arguments should be short and concise. But that doesn't mean you can't have a narrative. Making an emotional connection is key and what better way to do this than setting the scene with a dramatic plot, personal triumph, unresolved mystery, happy ending or tale of woe?
On the topic of genetically modified organisms, for example, we found evidence of retailers being construed both as villains ("I will no longer be shopping in your stores now you are to use GMO fed meat") and heroes ("Thank you for your reassurance, I will continue to happily shop in your stores"). Characterisation helps to convey an opinion:
5. Play devil's advocate
Social media is seen by some as something of a vortex – a negative time drain that consumes far too much emotional energy. But there is a benefit to online rage, in that it makes conversations continue.
The more vibrant and charged discussions involve a plurality of perspectives and some healthy antagonism, particularly around complex socio-political topics such as gender objectification or animal welfare. Keep fuelling the fire and stoking the debate with original and divisive opinions. Keep disagreeing with each other – and the companies. It is when organisational boundaries are truly tested that the real learning can occur.
So whether it's consumer reward schemes, customer convenience or issues of social responsibility, every comment in supermarket social media adds to the rich tapestry of online debate. There are ways to make yourself heard, and to improve the way retailers serve their customers. Social media channels can be effective online petri dishes for organisational learning – the companies just have to keep listening.