Economists believe that a well-organized and professionally working insurance industry in any state can perform significantly in the social and economic development and help in declining uncertainty over the economy and pooling long-term financial resources.
Taking the above consideration, I like to add that this industry also shares in the development of other financial markets and institutions, thus indirectly facilitating the economic growth of a country.
Adamjee Insurance Company Limited (AICL) having presence in Pakistan in the region and including the United Arab Emirates (UAE) sustains its standing through an unwavering commitment to its corporate philosophy. The company's competitive competency is attained through combinations of voluminous assets, notable paid-up capital, sizable reserves, a varied portfolio and consequently, extraordinary growth rates.
AICL one of the premier insurance companies in Pakistan, has planned to capitalize on the optimistic macroeconomic indicators of Pakistan by devising and implementing business policies that are consistent with the whole economic environment of the country. Furthermore, it is expected that the Company will increase its market penetration, both in UAE and Pakistan. The company recently launched a business under Window Takaful Operations in January 2016.
During first quarter ended 31 March 2017, the management published the statistics which shows that the Gross and Net Premium of AICL has rose by 18 percent and 40 percent, respectively. This growth in premiums mainly came from Motor line of business, which explained a rise of 19 percent in gross premiums. Overall underwriting results have enhanced by 42 percent over the same period last year with fire and property damage line of business leading the underwriting presentation with an underwriting profit of Rs128,825.
The company also mentioned in quarter ended March 31, 2017 that the investment income of AICL and PBT (profit-before-tax) have also risen by 17 percent and 30 percent respectively. Although, PAT (profit-after-tax) has declined by 4 percent from the corresponding period last year because of the application of normal tax rate charged at 30 percent (effective from 1st July, 2016) instead of reduced tax rate in the same period of 2016.
The written contribution and deficit of Participants' Takaful Fund are Rs248,055 thousands (2016: Rs22,807 thousands) and Rs6,439 (2016: Rs394 thousands), respectively.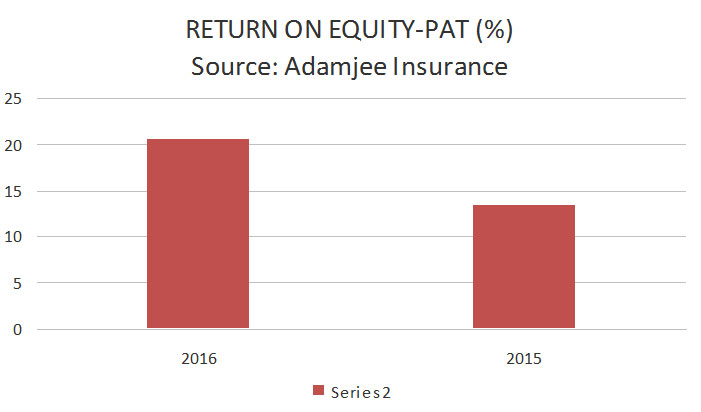 The most of the growth in contribution written came from the Health and Motor line of business which shared 51 percent and 31 percent, respectively to the total contribution written in the quarter under review.
Window Takaful Operations shared a profit of Rs14,880 thousands to the overall profits of AICL for the period ended 31 March 2017.