In most of the states, the service sector has a significant share in the Gross Domestic Product (GDP), offering career opportunities to the citizens, and also offers inputs and public services for the economic growth and prosperity. Experts said that trade in services can enhance the economic situation and even provide a range of traditional and latest export opportunities.
Many service sectors like education, health, water and sanitation sectors, are also directly relevant to attaining social development targets.
In case of our country, the share of services is growing in all sectors of Pakistan's economy over the period. If we compare its growth with other sectors, so the growth rate of this sector is larger than the growth rate of industrial and agriculture due to better investment climate in the country. Pakistan economists divided this sector into six sub-sectors counting: transport, general government services (public administration and defense); wholesale and retail trade; finance and insurance; storage and communication; housing services (ownership of dwellings); and other private services (social services). It is also calculated that the share of this sector has stood to 59.59 percent of GDP in FY2017. This sector has recorded a growth of 5.98 percent as against to 5.55 percent previous year. As a result we analyze that the performance of services sector has been better as against to commodity producing sector for quite some time. This trend is continued during FY2017 and this sector increased at 5.98 percent as compared to the commodity producing sector growth of 4.26 percent.
GROWTH RATE IN SERVICE SECTOR OF PAKISTAN (%)

Details

2011

2012

2013

2014

2015

2016

2017 P

Services Sector

3.9

4.4

5.1

4.46

4.4

5.6

6.0

a. Wholesale & Retail Trade

2.1

1.7

3.5

4.77

2.6

4.3

6.8

b. Transport, Storage and Communication

2.4

4.6

4.0

3.90

5.1

4.8

3.9

c. Finance & Insurance

-4.2

1.6

8.3

4.31

6.4

6.1

10.8

d. Housing Services (Ownership of Dwellings

4.0

4.0

4.0

4.00

4.0

4.0

4.0

e. General Government Services

14.1

11.1

11.3

2.86

4.8

9.7

6.9

f. Other Private Services

6.6

6.4

5.3

6.22

6.1

6.8

6.3
Furthermore, the government officials revealed and mentioned in the country's annual report that services sector also surpassed the planned target and has emerged as the most important driver of economic growth and is contributing a key role in augmenting and sustaining economic growth in Pakistan.
The condition of services sector remained broad based, as all components of services contributed considerably in optimistic term, as housing services by 3.99 percent, finance and insurance by 10.77 percent, transport, storage and communication by 3.94 percent, wholesale & retail trade increased by 6.82 percent, general government services by 6.91 percent and other private services by 6.28 percent.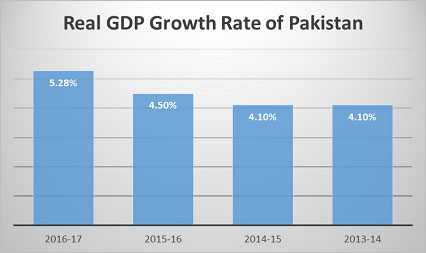 CONCLUSION
No doubt in the country, services sector has a great potential to rise and the present Government of Pakistan is making best attempts to offer enabling environment to economic agents to tap its potential.