Once a saving grace, remittances have been under pressure since quite a while now. Remittance inflows in Pakistan are not growing at a comforting pace and a pretty much well established fact by now. The latest numbers for April 2017 only reconfirm the trend already visible in the year to date. As has been the case since the start of this year, the fall in remittance flows from Saudi Arabia has had the biggest dent on total remittance. In the ten months ending April 2017, total remittance dropped $448 million or 2.8 percent compared to an increase of 5.31 percent in the same period last year. Of that $448 million decrease, the biggest hit came from Saudi Arabia, with a fall of $320 million. The US, UK, UAE and other GCC countries followed, leading to a total decrease of about $800 million in the year-to-date. Had it not been for the increase in remittance from EU countries and those categorized as 'Other Countries' by the State Bank of Pakistan (SBP), the dent to total inflows would have been hard hitting.
For years, Pakistan's inward remittances have been climbing steadily, ever since the Ministry of Finance decided to set up Pakistan Remittance Initiative (or PRI for short). The goal of this semi-autonomous body was to increase the inflows of remittances into Pakistan, while at the same time, advocating policies that would enable a frictionless environment for the diaspora to send money back home.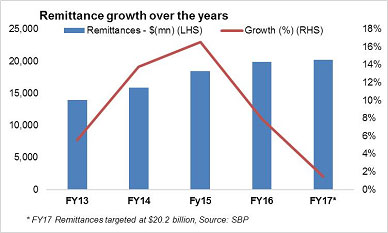 There is no doubt that PRI has been successful; the results are quite apparent. But for the first time in thirteen years, we have come to the point where talks of moving beyond remittances are on the cards.
As for year-end remittance numbers, the central bank expects full year FY17 remittance to range between $19.5 and $20.5 billion; while the Planning Commission forecast is $20.2 billion. If inflows in May 2017 also end up being lower-than-expected, and June doesn't grow as much as 20 percent, then we may be looking at a full year number less than $19 billion. Slow remittance growth is expected to continue in FY18 on account of Saudization, falling number of migrant workers going to the GCC, de-risking, the pound sterling's depreciation against the US dollar after Brexit, and stricter regulatory controls in the US.
RECALIBRATION
The need of the hour is evaluating how we can tap into other countries more effectively and incentivize remittances from countries other than the Middle East.There is a much greater need for structural reforms to not reduce our reliance on remittances by focusing on aspects like fixing trade deficits. However, we also need to improve the prospects for remittances; and one facet of that is improving the labor force and its export. There is no doubt a large labor force is available; but there is a dire need for the training and development of this manpower export. It's time that we upgrade to high-skilled labor force if we are to compete with our Indian counterparts in some of the key remittance sending countries.
Some of the steps being suggested and should be taken are:
– How more efficient remittance channels can be laid out, especially with the use of digital money.
– Implementing a strategy to minimize the number of intermediaries involved.
– Better access to banking channels, especially mobile wallets.
– Reduced paperwork, bureaucracy and paperwork to signup tie-ups.
– Provide more value-add in money transfers than just remittances vis-à-vis savings and investments incentives for Pakistani diaspora.
– Enhancing KYC & AML controls in order to forge better partnerships from sending countries.
– Actively engage the Commercial Counselors at Embassies, Consulates and High Commissions worldwide to foster trust relationships with diaspora to invest back home.
– Have local financial institutions (i.e. banks) seek direct money transfer licenses in sending countries.
– Provide more access to banking, via partner networks to MSBs who work in sending remittances to beneficiary countries.
– Move up the value chain for remittances and tap other corridors (Oceania, Far East, EU) as well.
– Acceptance of EU based bank accounts for UK MSBs.
– Launching of diaspora bonds and introduction of remittance based financial products for overseas Pakistanis.
NATIONAL REMITTANCE CORRIDOR IMPROVEMENT PROGRAM (NRCIP)
NRCIP represents a medium-term remittance master plan for the country and systematically covers all infrastructure and services that support remittances. The stakeholders need to adopt a holistic and integrated approach which encompasses the public and the private sector, services and infrastructure, reforms and investments, and the various sectors which are responsible for the level of performance of the corridors. NRCIP hinges on a consensus building process with all stakeholders through informed consultation that focuses on:
1- Promoting more competition in remittance services
2- Enhancing the quality and cross-country comparability of remittance data
3- Ensuring a level playing field for a wide range of financial institutions
4- Strengthening the financial infrastructure for electronic transmission of remittances
5- Bringing more remittance flows into the formal financial sector
6- Making sure remittance channels are not abused by criminals or terrorists
In addition, there is a huge freelancer market that is facing enormous difficulty in bringing their money back home, for the fear that it will be taxed. SBP needs to put in place a policy that qualified marketplaces (like Google, Upwork etc.) shall be treated as remittances and money coming in from these sources will not be subjected to taxes. Doing so will bring in literally dollar hundreds of millions back into Pakistan rather than it being kept overseas.
It is time we, the remittance dependent countries, realize that the time has come for us to look at alternative methods for increasing direct foreign exchange coming in from the Pakistani diaspora. If intelligent steps are put into play today, we would easily be able to counter this decline and make up for it — much more than we had envisioned.
The writer is a Karachi based freelance columnist and is a banker by profession. He could be reached on Twitter @ReluctantAhsan